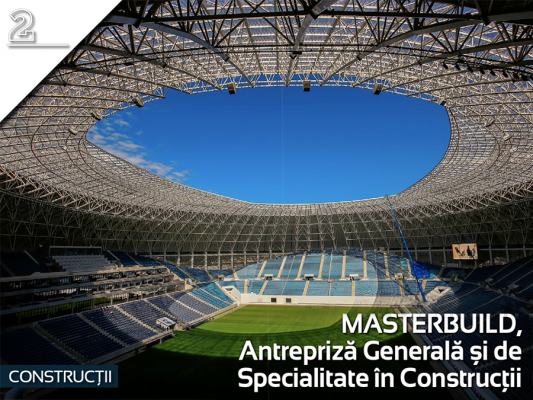 Business Journal: MASTERBUILD has implemented building projects for US embassies, for NSPA – NATO Procurement Unit, and also for private clients – multinational companies and local companies.
The company provides highly competitive service, by value engineering solutions and new technologies. In the last 5 years, MASTERBUILD – Antrepriza Generală și de Specialitate în Construcții consolidated its presence on the local market and developed its general contracting skills for building production and logistical facilities, military bases, stores and retail parks, shopping centers and office buildings, residential buildings and mixed-use projects.
Thus, MASTERBUILD has developed a significant and diversified portfolio of clients in fields such as retail, agribusiness, the industry of consumer goods, logistics, health or transportation, institutional clients, and also international organizations, which contributed to a stable turnover of over EUR 5 million. Moreover, the activity of MASTERBUILD was internationalized, with general contracting agreements (design and build), in EU, Africa or Asia.
The company has significant experience in special buildings, requiring a high degree of specialization, for which MASTERBUILD teams have great market expertise: complex envelope and partitioning systems – roofs, facades, metallic structures, thermally-controlled rooms, fire-resistant rooms, clean rooms – and also special-installation systems and other works.

Currently, MASTERBUILD is a full integrator of building services, providing both pre-building consultancy services, from the initial budgeting of a project, land purchase, as the case may be, the architectural concept or obtaining building permit, and the turnkey building of a project – PT, DDE, DTAC & MEP architecture, planning, cost control, onsite Project Management, tender procedures and subcontractor and supplier coordination, full coordination and work reception.
MASTERBUILD also provides post-building services, including obtaining operating authorizations, providing financial securities, maintenance and preventive auditing services.

in the last years, MASTERBUILD projects were developed for store chains Auchan Romania, Lidl, McDonald's, Ravago (building materials), Webasto (automotive), Tuborg Romania, Danone, General Leasing (equipment for the agricultural sector), for various bakeries, and also for institutional clients such as the Compania Națională de Drumuri, Ion Oblemenco Stadium of Craiova, NSPA – NATO procurement unit or US Embassies.

In the logistical park segment, MASTERBUILD was involved in projects with important areas of specialized works for CTP – the largest local developer of logistical parks, and also for P3 and Delamode.

See the whole articole on: JurnaluldeAfaceri.ro